Skip to Main Content
First Annual Curbside Thanksgiving
Photo courtesy of iStock
Recently, we shared tips to prepare for Thanksgiving in your Camden apartment. This Thanksgiving, no doubt, was significantly different than any of us have experienced. The ideas we shared included ways to celebrate and even volunteer with social distancing in mind, finding ways to connect with our loved ones while maintaining the holiday spirit.
My family was no exception. Like many other families around the world, we are mourning several empty chairs at the table – a table both Yolanda and I look forward to every Thanksgiving, Christmas, Easter, Memorial Day, July 4th, and Labor Day. Instead of having Thanksgiving Dinner with my family and then with Yolanda's family, we trapezed the Houston Metropolitan area, retrieving and delivering desserts, side dishes, and turkeys. Yes, 2020 was our First Annual Curbside Thanksgiving.
We anticipated this, so determined to not allow circumstances to completely wreck our family getting together, we decided to take to heart one of the tips from that Simply Camden blog and leverage technology and do a Zoom Family Cooking Class a few weeks prior to Thanksgiving. My plan was for my mom to share a few recipes and instructions with the usual crew of family that gets together during Thanksgiving. What ultimately happened, though, was something more.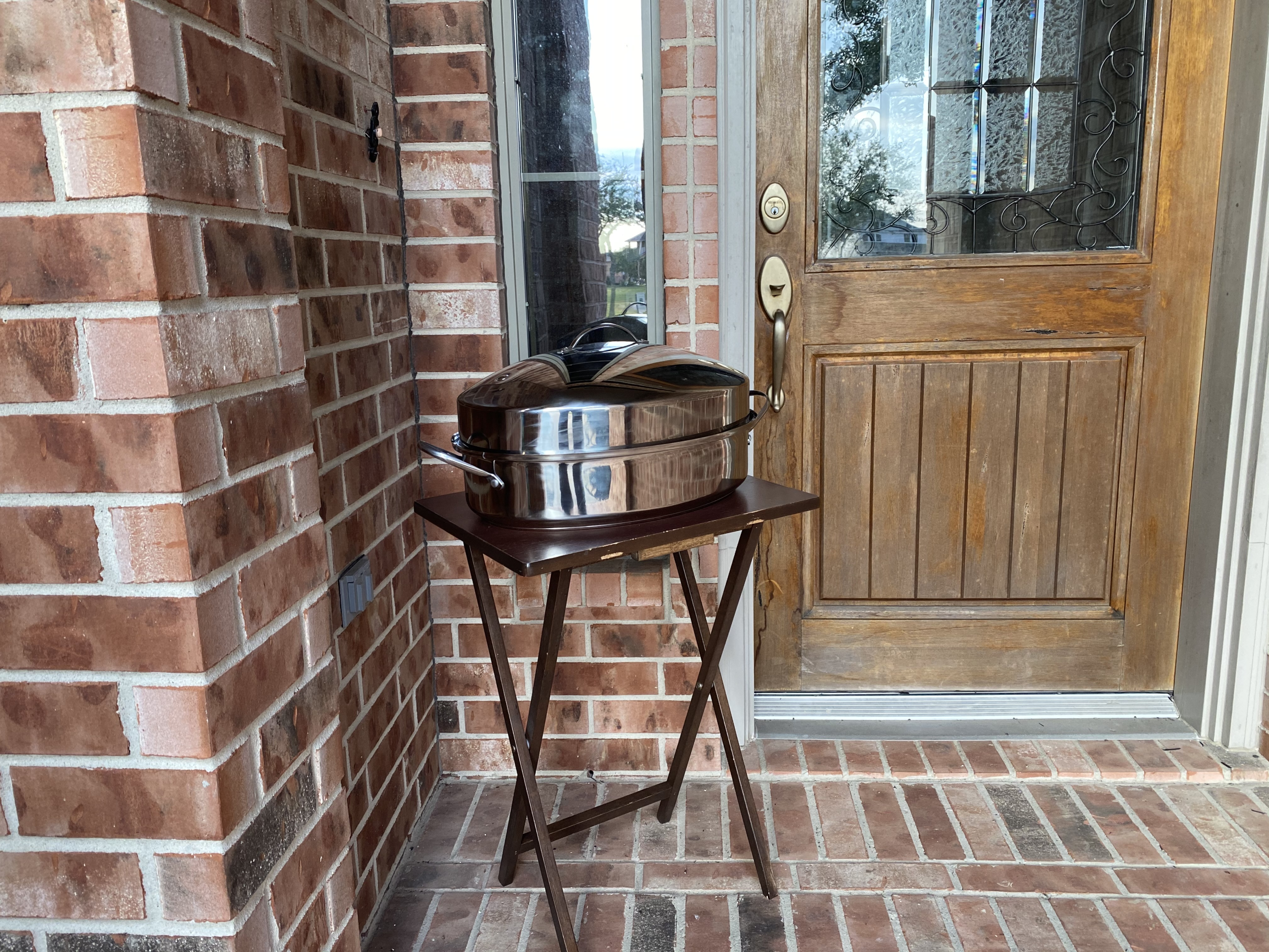 Thanksgiving turkey on the doorstep - all part of a socially distanced holiday photo courtesy of Frank McCammon
Through a series of events (and Ancestry.com), we found a distant cousin that we had been in search of for quite some time. On that Zoom call, we each shared our connection with Tiffany and how we related to her leaf of our lineage. More senior folks on the video conference recalled stories from the 1940s and 1950s, shaping and foreshadowing how things would unfold and come-to-be. The circumstances that estranged Tiffany from the family tree are remarkable, awful, endearing, upsetting, inspiring, and glorious – the stuff of movies. Now that this connection is rediscovered, I can bear witness that Love wins, yet again. 
If there is anything that we can ALL be thankful for, it is in the very real truth that Love prevails. Connections will be restored. And even stronger bonds created. We've learned about connection in more than just our personal lives this year. Camden teams nationwide have been finding ways to continue to bond and celebrate our strong company culture with each other and our residents. 
We enjoyed the leftovers from our First Annual Curbside Thanksgiving. No doubt, the leftovers that will remain for a lifetime will be our renewed faith in Love and our re-strengthened resolve to endure, despite any circumstances or hardships we are presented. We are grateful for our connections with our families, friends, our Camden colleagues.
Camden communities mentioned
Let's be longtime friends—subscribe today!